---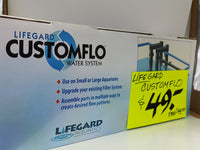 CustomFlo Water System
Assemble parts in multiple ways to create desired flow patterns.
For use in large or small aquariums or to upgrade existing systems.
No Holes to Drill.
CustomFlo Starter Kit:
Introductory kit of 16 items enables you to experiment with a variety of flow patterns.
Additional and replacement packaged parts are available.
OVER WALL ASSEMBLY Swivels to allow close tank wall positioning. Suction cups fasten to inside and outside for secure fit.
HYDRO JET R440049 Allows mix of air with water in any location of aquarium. Includes suction cup adapter to attach air line tubing to tank wall.
PIPE/HOSE ADAPTER R440065 For 1/2″ or 3/4″ flexible tubing.
SUCTION STARTER Open cap to prime suction line.
SLIDER & SUCTION CUP Swivels to allow close tank wall positioning.
SPRAY or SOLID PIPE Use above or below water on return or suction side. Create your own design using elbows, Ts and couplings with special suction cup adapters.
BLACK PIPE & FITTINGS Blends into tank appearance.
CONTROL VALVE Controls water flow. Valve rotates and locks in desired position. Can be mounted vertical or horizontal for custom plumbing. Allow Aquarist to manipulate flow into any pattern on suction or return side. Can be attached to spray bar, venturi Hydro jet, ball socket assembly or suction screen.