---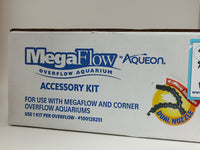 Overflow Accessory Kit specifically designed for the All-Glass Megaflow and Corner Overflows. This unit will work with most overflows 18" and taller with a hole designed for a 1" bulkhead.
Features include adjustable drainpipe and air intake elbow to help reduce overflow noise and a dual nozzle made out of modular piping for your 3/4" return line.
Kit Includes:
Adjustable Drain pipe
Modular Piping Dual Nozzle
3/4" Return pipe
3/4" Elbow
1" Bulkhead
3/4" Universal Bulkhead
3/4" Bulkhead
Air Intake Elbow
90 degree Elbow (attaches to Air Intake)
Drain Pipe Base (to slide into 1" Slip Bulkhead)
Strainer
Bulkhead Wrench
Use 1 Kit per overflow. In order to use return pipe feature, your overflow must have a hole drilled to accommodate a 3/4" bulkhead.